Wellness Week is right around the corner, and we have a full schedule of events designed to help students get more engaged with health and wellness resources on campus and in the community. All events that are a part of Wellness Week are free, and we have some wonderful campus and community partners providing some excellent health information and activities for campus.
MONDAY SEPTEMBER 10
Traveling Food Demo, 11 AM – 2 PM
Find campus Registered Dietitian Sheena Gregg popping up all over campus to do some healthy eating food demos! Look out for the Health Promotion and Wellness van and the free samples.
The Barre Code Tuscaloosa Pop Up, 4 PM – 5 PM, The Ferguson Student Center Great Hall
The Barre Code Tuscaloosa is hosting a pop up barre demo for free in the Great Hall! Bring athletic wear and a water bottle, and get ready to feel that thigh burn (Sponsored by the Ferguson Student Center). Worth one Greek point.
TUESDAY SEPTEMBER 11
Open Labyrinth Walk, 10 AM – 2 PM, The Ferguson Student Center Great Hall
You might have seen our labyrinth on campus, but haven't gotten to try it out yet, so now is the time!
Glow Yoga, 7:30 PM – 8:30 PM, Canterbury Church Yard
Sponsored by University Recreation, Glow Yoga features upbeat music and a free yoga class! Join us under the lights in your best neon work out gear. Worth one Greek Point!
WEDNESDAY SEPTEMBER 12
The Student Health Fair, 10 AM – 2 PM, The Ferguson Student Center Plaza
The Student Health Fair features approximately 30 campus and community vendors to help students get more involved with the health and wellness resources available to them. Free t-shirts for the first 500 attendees and worth one Greek point!
Campus Dialogues, 1 PM – 1:50 PM, The Ferguson Student Center Great Hall
Campus Dialogues, presented by Crossroads Community Center, The Ferguson Student Center and the Office of Student Involvement will take on a health and wellbeing theme this week providing students with opportunities to discuss where there may be campus or societal barriers to health. Free cookies and tea available!
HIV Testing, 10 AM – 2 PM, Room TBD
The Alabama Department of Public Health will provide free and confidential HIV and Hepatitis C testing to UA students. It's free (and it doesn't hurt!)
THURSDAY SEPTEMBER 13
Homerun Derby Challenge, 11 AM – 2 PM, The Ferguson Student Center Plaza
Learn more about CRIS (Collegiate Recovery and Intervention Services) and their homerun services by playing our home run challenge and answering some quiz questions on alcohol and other drugs. Free iced coffee for participants!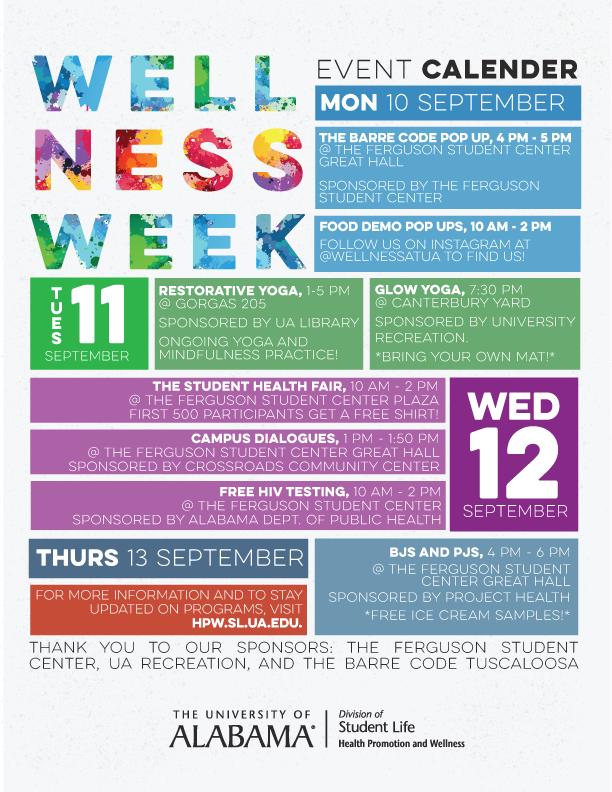 For additional information about Wellness Week, please contact Brittney Vigna at bevigna@ua.edu.